The Life Saving Station at Point Betsie included daily, rigorous preparatory drills for the crew. The Captain required military discipline to keep crewmembers prepared for treating wounded survivors, providing first aid, attempting to retrieve victims from a vessel in distress or recover those less fortunate victims when an attempt to reach the shoreline failed.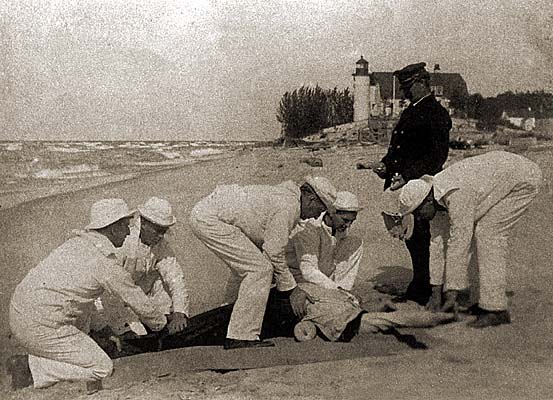 Nightly drills of north and southbound beach patrols were conducted, and life savers were keenly aware that any day could present them with a perilous scenario. Commanders at the Life Saving Station provided documentation and oversight of all matters pertaining to the upkeep, maintenance, training and well-being of the crew at the Point Betsie Life Saving Facility.
Pictured (above) is the first Life Saving Station at Point Betsie Lighthouse in 1875, which was one of the first in America. In the foreground a small passenger boat ferries guests to the shoreline while crew members wait to greet them.